FindVPSHost.com
>
VPS Web Hosting News
Cirrus Tech Launces Parallels Plesk Panel 11 on VPS and VM Plans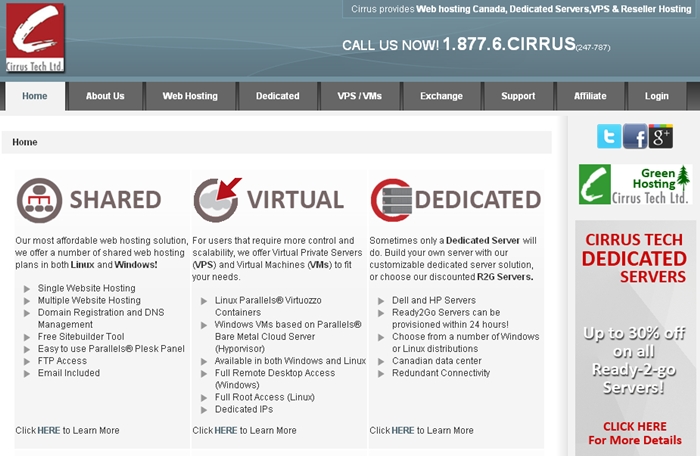 Cirrus Tech will partake in the launch of the newest version of the industry leading control panel, Parallels Plesk Panel 11.

The Canadian company will be deploying the award-winning panel for its VM and VPS plans, with users benefitting from new features such as upgraded security and improved web server performance.

The software will be deployed on both of the web hosting specialist's Linux and Windows VPS hosting plans, which will utilize the latest version of the control panel which has a far more modern look about it.

John Zanni, Vice President of Service Provider Alliances and Marketing at Parallels, spoke of his delight to see Cirrus offering their control panel.

"As a Gold Partner of Parallels, I am happy to see that Cirrus Hosting is offering Parallels Plesk Panel 11 to their VPS customers on launch day," he said.

"The numerous enhancements in Parallels Plesk Panel 11, including the new Web Presence Builder and accelerated web site performance capabilities, will appeal to Cirrus Hosting's VPS customers regardless of their size or how fast they are growing."

The latest version will enable an easier process when adding and customizing extensions along with having built in extensions such as Joomla and WordPress.

Also included and enhanced will be security features, performance and loading times. The inclusion of Application Packaging Standard (APS) 1.2 will also give users access to a large range of applications.

According to Cirrus CEO Ehsan Mirdamadi, their customers are in line to benefit from the implementation of the latest control panel. "Our long-time partnership with Parallels has allowed our customers to reap all the benefits that the award-winning hosting control panel offers," he said.

"Now with the launch of Parallels Plesk Panel 11, Cirrus VPS users have even more features and functionality at their fingertips. Participating in this launch is part of our commitment to provisioning industry leading technology across the Cirrus network."

Visit http://www.cirrushosting.com/ or call 1.877.624.7787 for more details.

About Cirrus Hosting

Cirrus Tech Ltd. has been a leader in providing affordable, dependable VHS and VPS hosting services in Canada since 1999. They have hosted and supported hundreds of thousands of websites and applications for Canadian businesses and clients around the world. As a BBB member with an A+ rating, Cirrus Tech is a top-notch Canadian web hosting company with professional support, rigorous reliability and easily upgradable VPS solutions that grow right alongside your business. Their Canadian data center is at 151 Front Street in Toronto.



Comment News
| | | | | | |
| --- | --- | --- | --- | --- | --- |
| Connect with | | or | | or | |

FindVPSHost.com is here to help you find a good VPS host matching your needs.