CommuniGate Systems Support VPS Affiliates with cPanel Adaptor Kit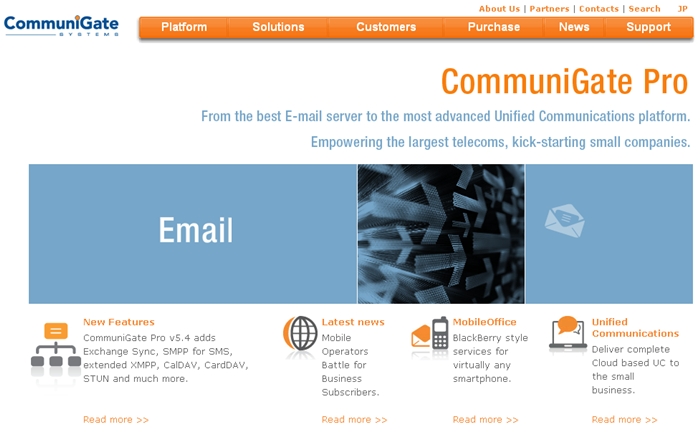 CommuniGate Systems is looking to assist its VPS customers in the cloud services market through a newly released open-source cPanel plugin.

The German-based company which offers Unified Communications technology will deploy the kit along with CommuniGate Pro in order to enable customers to run up to 50,000 accounts on one server.

CommuniGate has stated that the cPanel will provide a "simple, elegant, and efficient set of services all leveraging the virtualized server in the Cloud."

Brent Kelly, Principal at KelCor Inc. and VP at Constellation Research, said: "Putting CommuniGate Pro in the cPanel ecosystem paves the way for unified communications to become the norm for even the smallest providers and their SMB customers."

Through the plugin, users will now be able to offer Enterprise Grade communications services in the Cloud. Some of the functions they can now benefit from include, securing instant messaging with the ability to link to external servers, Email, calendar and address book functions integrated to iOS5 devices (iPad, iPod, iPhone) Android and Microsoft Mobile and shared Cloud storage.

Also offered by the new plugin is a security increase which includes PIN code enforcement, remote device wipe, and locking the handset by IMEI for access to the Cloud.

Kelly concluded by adding: "Virtual hosting providers are looking for options to up-sell advanced communication solutions to their customers within the app store simplicity that technologies like cPanel bring, but without the extra overhead of running their own external servers. This technology delivers these capabilities."

About CommuniGate Systems

CommuniGate Systems develops carrier-grade Unified Communications software for service providers to deliver value-added voice and multimedia services over IP-based networks. The Company's software solutions enable service providers to deliver hosted, SaaS, or Cloud-based communications solutions, including Voice over IP (VoIP), Mobile Voice over IP (mVoIP), Unified Communications and converged mobile and fixed-line services cost-effectively at massive scale.

CommuniGate Systems' open-source cPanel plugin is the industry's first Unified Communications hosting platform for virtual environments. The Company's software also includes the industry acclaimed CommuniGate Pro, Pronto!, the Unified Communications client for mobile, web and desktop.
Comment News
| | | | | | |
| --- | --- | --- | --- | --- | --- |
| Connect with | | or | | or | |