FindVPSHost.com
>
VPS Web Hosting News
DLNET.ORG Release New VPS Hosting Platform Simple-webhosting.eu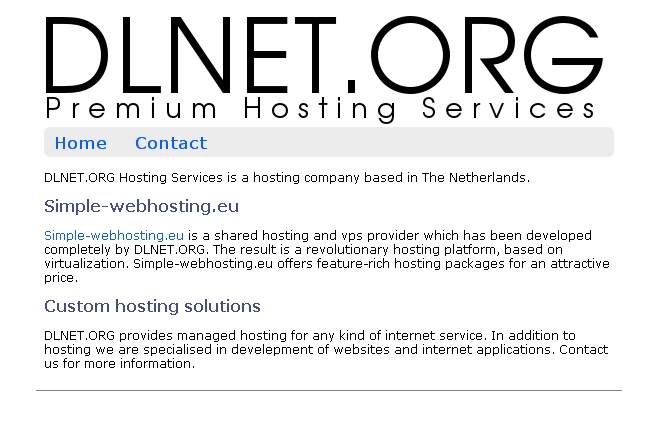 DLNET.ORG Hosting Services has announced the launch of a new hosting platform which combines the best of shared web hosting with virtualization.

Simple-webhosting.eu will look to provide a more secure and flexible service, with each customer having their own Virtual Private Server (VPS).

This form of server will have the same functionality as a dedicated server and will also have access to services outside the VPS such as a web and database server.

Owner of DLNET.ORG, Lennart Ackermans, explained the benefits of the new platform along with VPS. "It's VPS hosting, because every customer has a complete debian VPS with an IPv6 address," he said.

"But then again, it offers all features that shared web hosting has. I don't even know how to call it."

The company which has been running since 2010 states that their new platform provides a user-friendly sign-up procedure, which allows customers to determine their own amount of bandwidth and disk space.

While DLNET.ORG specializes in custom hosting solutions for internet applications, their latest launch will focus solely on website hosting.

About DLNET.ORG

DLNET.ORG provides managed hosting for any kind of internet service. In addition to hosting They are specialised in develepment of websites and internet applications.


Comment News
| | | | | | |
| --- | --- | --- | --- | --- | --- |
| Connect with | | or | | or | |

FindVPSHost.com is here to help you find a good VPS host matching your needs.