FindVPSHost.com
>
VPS Web Hosting News
Free Windows Server 2012 Release Candidate and WebMatrix v2 Release Candidate Accounts Offered by VaiSulWeb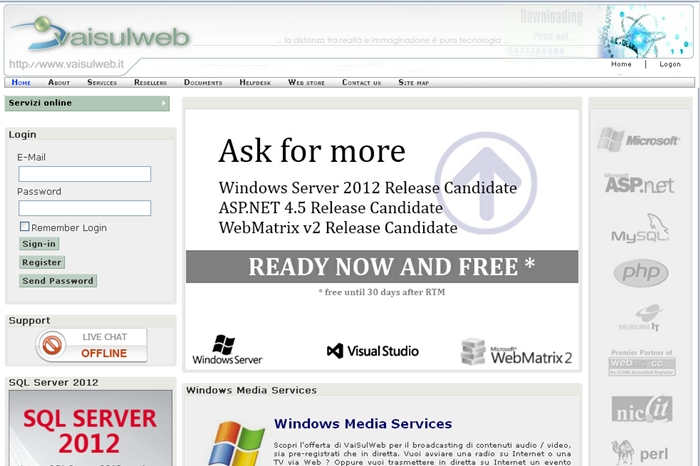 VaiSulWeb has announced that it will now be offering WebMatrix v2 RC program, the free Web Development tool provided by Microsoft.

The declaration comes following a successful partnership between VaiSulWeb and the computing giants, along with what the Italian providers labelled "hard work."

Following the success of the first WebMatrix program, VaiSulWeb has been invited to support the release candidate publishing of the product.

The accounts will be based on Windows Server 2012 Release Candidate, the latest version of Microsoft's Windows Server platform. These free accounts will allow users to become familiar with Microsofts Web Platform in general.

Through the partnership, VaiSulWeb were provided the opportunity to become the first company to offer its customers WebMatrix v2 Release Candidate accounts based on the new platform.

Included in the news features on Windows Server 2012 is WebSocket support in IIS 8 along with many other updates of existing features and other new innovations. WebMatrix will offer improved functions which include automatic backup following added content.

Looking to the future, VaiSulWeb has announced plans to offer Windows Server 2012 RC on both virtual machines and dedicated servers by the end of June, which will be centred around Microsoft's server operating system.



Comment News
| | | | | | |
| --- | --- | --- | --- | --- | --- |
| Connect with | | or | | or | |

FindVPSHost.com is here to help you find a good VPS host matching your needs.