FindVPSHost.com
>
VPS Web Hosting News
HostGee Offers Discount Price for Unlimited Web Hosting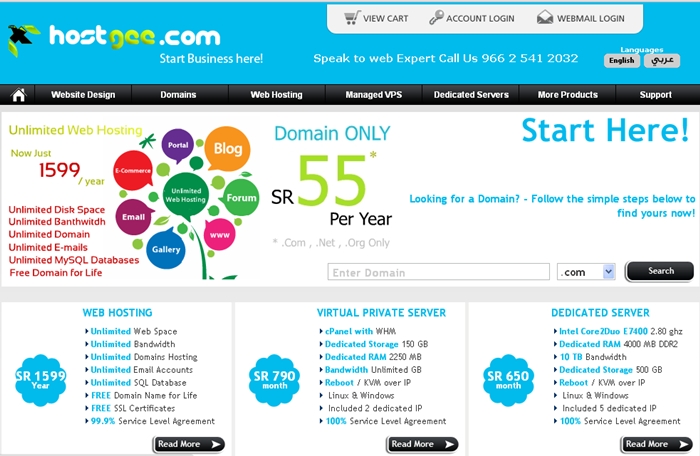 Saudi Arabian-based HostGee will be offering customers a discounted price for unlimited web hosting services.

The web hosting company is looking to allow website owners to purchase their services at 4.40 Saudi Riyal with the offer will also looking to encourage those aspiring to start a website or business.

HostGee's solution prices have seen them climb the market ladder within Saudi Arabia and the web service provider is aiming to continue its growth with its latest offering.

Packages currently come with unlimited disk space and bandwidth to ensure users have all the resources they need. This also allows them to expand their business online and benefit from all the necessary tools they could require.

Their website design also includes templates with plugins for photo galleries, forums and membership scripts, enabling an easy process for beginners looking to design their own website.

Along with this, HostGee also provide shopping cart software free of charge along with a 24-hour support service.
For customers interested in utilizing the offer to set up and host their own websites, use the code 4SARRAMADAN to benefit from the discounted hosting price or HOSTGEE25RAMADAN to receive 25% off any web hosting plans.

About HostGee Web Design Saudi Arabia

HostGee Web Design is a division of Gulf InfoNet Establishment. Based in Makkah, Saudi Arabia, HostGee Web Design is able to offer a wide range of web services to clients across the Saudi Arabia and beyond. This website design agency has extensive experience with clients from all industries and specialises in professional web design projects in Saudi Arabia.

Comment News
| | | | | | |
| --- | --- | --- | --- | --- | --- |
| Connect with | | or | | or | |

FindVPSHost.com is here to help you find a good VPS host matching your needs.