FindVPSHost.com
>
VPS Web Hosting News
New Back Up Service Company CodeGuard Adopted by Hosting Solutions Provider PacificHost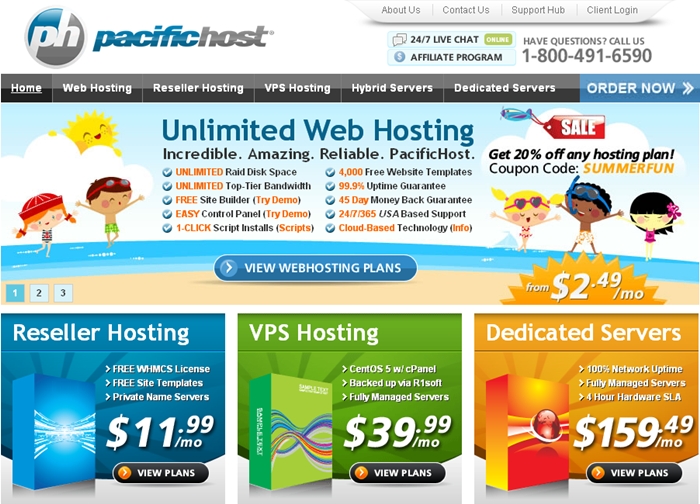 PacificHost has announced a partnership with new backup service company CodeGuard, in order to offer better protection for customer's websites.

The provider of Linux-based control panel hosting solutions has adopted the services of CodeGuard to operate within its pacificPanel and will offer free of charge to its customers on shared and reseller hosting services.

CodeGuard, who also offer code monitoring services, state that their services can be utilized for numerous purposes including website hacking, faulty code changes and restoration of a website from malware injection.

The new service offers protection from both external and internal threats, along with automatically taking database backups on a regular basis, a solution which CEO of PacificHost Thomas Perry is pleased to have on board.

"This is an amazing service and we are very excited to offer this to our customers. CodeGuard gives our customers an easy to setup way to manage their own offsite backups," said Perry.

The serving will allows customers to use CodeGuard to back up a maximum of 2GB of data, with a payment only required upon the use of the restoration service. Monthly service plans for the basic plan will start at $20 per month for 10GB of data.

Perry continued to explain the benefits that customers will reap from their latest acquisition who were named one of the top 40 Most Innovative Technology Company in Georgia.

"This will surely be of great benefit to our developer and small business clients who are constantly updating their website with new code and content changes," he concluded.

About PacificHost

Originally formed in 1999, PacificHost provides high quality shared and reseller hosting solutions to clients worldwide. Hosting includes unique features such as built-in Cloud Software, Video Streaming Software such as FFmpeg, Remote R1soft Backups, Nginx and more.

About CodeGuard

CodeGuard is the world's leader in website backup services. CodeGuard offers free automatic daily backup and monitoring for any website under 2GB, with paid plans for customers with multiple websites. In the last year, the company was featured in USA Today, Inc Magazine, the Washington Post, and was named a Top 40 Most Innovative Technology Company in Georgia.
Comment News
| | | | | | |
| --- | --- | --- | --- | --- | --- |
| Connect with | | or | | or | |

FindVPSHost.com is here to help you find a good VPS host matching your needs.