Runa Capital Partners with ServInt to Encourage "Next-Generation Hosted Technologies"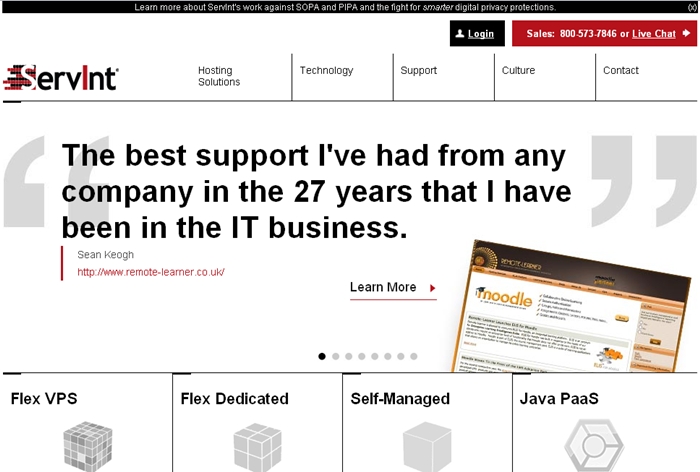 Runa Capital and ServInt have announced a joint venture to encourage the development of next-generation hosted technologies.

The partnership between the global technology venture capital fund and the provider of managed cloud hosting, respectively, has led to Runa Capital's customers receiving a discount on their first 12 months of service.

Serguei Beloussov, a senior partner at Runa Capital confirmed the offer saying, "The special discount ServInt is offering to our startups will help them grow faster and become market leaders in the future."

He continued; "Part of Runa Capital's mission is to serve as an incubator for the hosting and cloud industry. We are glad to be partnering with ServInt, a company that provides a suite of scalable hosting options and custom solutions to thousands of customers from its world-class data centers."

Runa Capital was established to seek growth opportunities in the technology sector with a focus on ServInt's precise field, cloud computing.

Reed Caldwell, CEO at the cloud hosting providers, spoke of how this inspired the newly formed partnership explaining that "ServInt understands innovative startups because we once were one."

"That's why we're thrilled to work with Runa Capital, which shares our enthusiasm for helping innovative startups succeed."
He concluded; "We're providing grants in the form of discounted service on the best, most stable hosting infrastructure in the business - to help Runa foster the next generation of hosting and cloud companies."

About Runa Capital

Runa Capital is a technology-focused venture capital firm whose investments have created or incubated companies with more than US$10 billion in assets. It was established to seek growth opportunities in the rapidly growing areas of the tech sector, with specific focus on cloud computing and other hosted services, virtualization and mobile applications. The key execution point is to select promising teams and drive and support them in the global marketplace, turning them into international champions. Runa Capital's investments announced to date include: Nginx, Talkbits, Jelastic, Metabar, Travelmenu, BigTime Software, ThinkGrid, Ecwid, Capptain, B2B-Center, and LinguaLeo.

About ServInt

ServInt is a pioneering provider of high-reliability, managed cloud hosting services for enterprises worldwide. Founded in Northern Virginia in 1995, ServInt provides a range of IaaS, PaaS, VPS and dedicated server packages to hosting service resellers, web designers, developers and online businesses in more than 130 countries.

Comment News
| | | | | | |
| --- | --- | --- | --- | --- | --- |
| Connect with | | or | | or | |