FindVPSHost.com
>
VPS Web Hosting News
Web Host NextPointHost Launches SSD VPS Hosting Options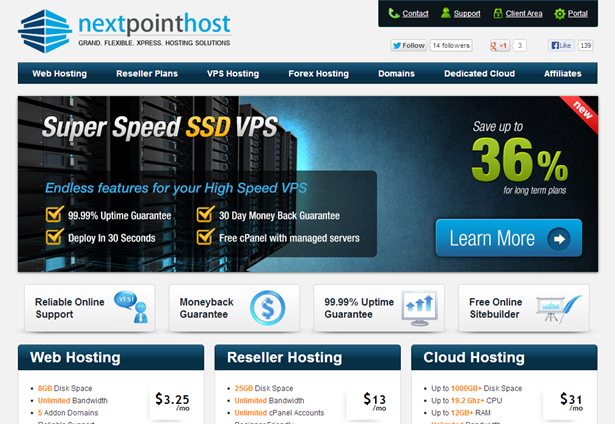 Web host NextPointHost has launched a new ranges of affordable SSD Virtual Private Servers (VPS) hosting options that are suitable for larger websites. The options utilize solid state drive storage technology and offer very high data writing and retrieval speeds, meaning page loading speeds are 300% faster than traditional hosting services. Database queries and video conversions are also substantially faster.

NextPointHost bills itself as a "pure IaaS provider" and offers a range of hosting options including Linux shared hosting, cPanel hosting, reseller hosting, cloud hosting, SSD Virtual Private Servers (VPS), and dedicated servers. The company caters to around 100,000 customers globally. Its VPS options offer a range of features including a cPanel, Nginx and LiteSpeed Webserver which utilizes optimizations and advanced system administration to make its VPS up to 15 times better than similar solutions.

The highly available options are located in a Tier 4 datacenter with N+2 redundancy and offer advanced DDoS protection and Attracta SEO tools. The solutions can also be managed through apps for Android and iPhone devices. NextPointHost's SSD VPS costs $19.99 per month with 25GB of disk space, 768 MB RAM and 1.13 GHz Intel Xeon E5 CPU.

"We are very thrilled to launch our SSD VPS solutions, continuing our traditions of introducing innovative products and making sure our customers have the best possible choice when it comes to web hosting," suggested Genko Penev, founder and CEO of NextPoinHost.

Do you know of any other companies offering great VPS solutions? Let us know the details. Add your comments below.




Comment News
| | | | | | |
| --- | --- | --- | --- | --- | --- |
| Connect with | | or | | or | |

FindVPSHost.com is here to help you find a good VPS host matching your needs.