FindVPSHost.com
>
VPS Web Hosting News
Web Host RepriseHosting.com Launches Value-added Consultancy Service for VPS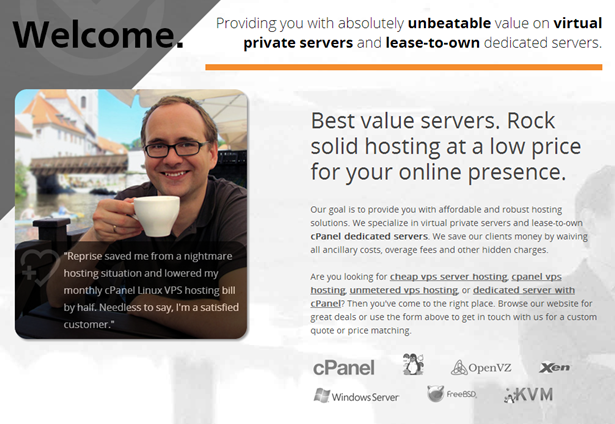 Web host RepriseHosting.com has launched a new value-added consultancy service for its VPS and dedicated server customers. The service underscores the company's perception of itself as being a business development partner for its customers rather than simply a utility provider.

The Las Vegas, Nevada-based company, which specializes in cPanel VPS and dedicated server hosting, will offer its customers three, hour-long, one-on-one IT consultations that aim to help customers plan and execute their online presence, but which could cover a range of areas and issues. These areas could include web application development with a LAMP stack, Search Engine Optimization (SEO), mobile app development for iOS, Android or PhoneGap, OAuth, and database architecture and ecommerce platforms.

"We have a multi-talented and experienced team at Reprise Hosting—seasoned programmers, experienced sysadmins, SEO specialists, management folks, you name it," explained Reprise Hosting's Jeff Michaels. "Our clients frequently seek our guidance on a broad range of planning and execution topics related to their online businesses. Instead of deferring those requests, we've decided to formalize a new process by which we assist our clients with matters that are above and beyond what you'd consider 'technical support.' Our clients have great ideas and we want to help them achieve what they set out to do."

Do you know of any other companies that are providing consultations? Let us know the details. Add your comments below.

Comment News
| | | | | | |
| --- | --- | --- | --- | --- | --- |
| Connect with | | or | | or | |

FindVPSHost.com is here to help you find a good VPS host matching your needs.