FindVPSHost.com
>
VPS Web Hosting News
Canadian Web Host Cirrus Tech Now Offers Managed Support for all VPS Plans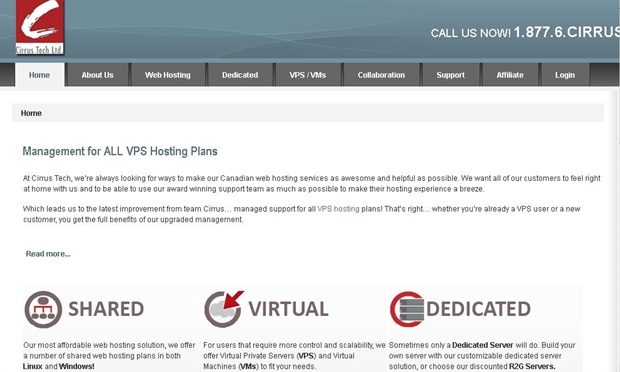 Canadian web host Cirrus Tech is now offering managed support for all its Linux and Windows Virtual Private Server (VPS) plans. The Toronto, Ontario-based company's support covers configuration assistance for common server applications and security patch installation. In addition, VPS support now covers free migration for customers moving to a Cirrus Tech VPS plan from another provider.

The company's move was based on its recognition that many businesses do not have the technical resources to set-up VPS hosting. Increasing its support has bridged that capability gap allowing its customers to set up quickly and safely.

Cirrus Tech Managed VPS options are located in Canada and utilize the Parallels Virtuozzo and Parallels Cloud Server virtualization platforms. The company's physical servers offer a fully redundant architecture to ensure full security. Its support team addresses customers' VPS issues on a round-the-clock basis, and these include Plesk and Cpanel control panel issues. In addition, Cirrus Tech's support team provides full support when diagnostics indicate security patches are required. The team also provides instructions on setting up email, remote desktop, FTP, SFTP, and SSH client configuration alongside support installing server applications like SQL, MySQL, PHP, Perl, .NET, IIS and Apache.

"We are really excited about making managed support available to all Cirrus VPS users," explained Ehsan Mirdamadi, Cirrus Tech's CEO.

Just how important is wide ranging support to a web hosting company offering VPS services? Let us know your thoughts. Add your comments below.
Comment News
| | | | | | |
| --- | --- | --- | --- | --- | --- |
| Connect with | | or | | or | |

FindVPSHost.com is here to help you find a good VPS host matching your needs.