FindVPSHost.com
>
VPS Web Hosting News
Indian Web Host eWebGuru Offers New Managed Windows VPS Options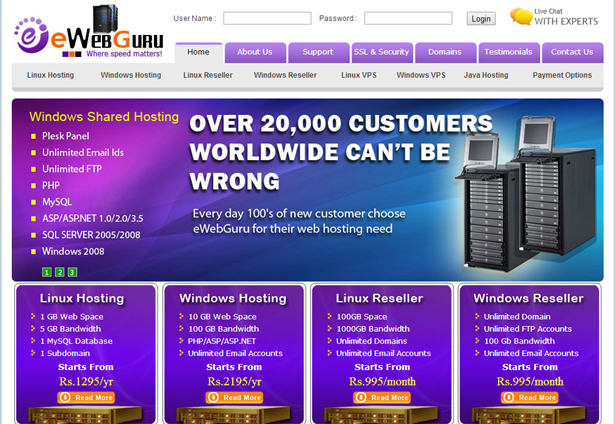 Indian web host eWebGuru is offering new managed Windows VPS options. The company, which is based in the India National Capital Region of Delhi, aims at being the leading regional Windows VPS hosting provider and offers a range of cost-effective services underpinned by excellent technical support including live chat support. eWebGuru's services include Linux, WordPress, PHP, Mac hosting, and company prides itself on "regular improvements in the web hosting process".

"A few decades back, all the tasks at a specific company were performed by the professionals employed there under the supervision of the owners," explained a company spokesperson. "Still, they are done in the similar manner. However, one thing that is changed is the delegation. As the companies grow, they need to delegate and outsource to get the most out of their money and time. We at eWebGuru understand the psyche of our clients and thus, offer them a fitting solution that matches their mode of operation and their budget too. We have introduced a range of windows vps hosting plans that takes care of the requirements of such clients and meet their objectives too. This has enables us get close to our huge clientele and comprehend their needs in a better fashion."

The company caters to 20,000 customers globally. Its VPS offerings utilize the Windows 2008 operating system and provide a range of resources including dedicated RAM starting at 384 MB and going up to 4096 MB. Disk space goes up from 20 GB to 200 GB and bandwidth from 300 GB to 3500 GB. All options offer a dedicated IP address and prices range from Rs. 800 ($13.2) per month to Rs. 8000 ($132) per month. Accounts offer unlimited domains, subdomains, MySQL or MSSQL databases, FTP accounts and email accounts.

Do you know of any other providers offering great VPS services? Let us know the details. Add your comments below.





Comment News
| | | | | | |
| --- | --- | --- | --- | --- | --- |
| Connect with | | or | | or | |

FindVPSHost.com is here to help you find a good VPS host matching your needs.