FindVPSHost.com
>
VPS Web Hosting News
VPS Hosting and Dedicated Server Provider Future Hosting Offers New Pure Solid-state Drive (SSD) Virtual Private Server Hosting Plans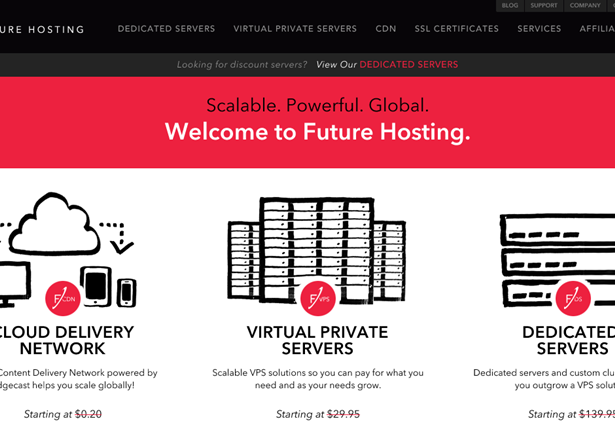 VPS hosting and dedicated server provider Future Hosting is offering new pure solid-state drive (SSD) virtual private server (VPS) hosting plans. The company's current VPS customers utilizing the company's Chicago data center are able to immediately migrate to the new solution.

Solid-state drive servers are more effective than traditional "spinning" disks which often slow sites down. They significantly increase server performance, especially for the input/output (I/O) operations (such as database transactions) modern database-driven websites require for an interactive user experience. The reduced speeds of traditional servers often lead to increased bounce rates and reduced conversion-rates for ecommerce sites.

Established in 2001, Future Hosting specializes in managed hosting, including dedicated servers, virtual private servers, and hybrid solutions. The company's new plans offer cPanel or Plesk control panels alongside CentOS 6 and full root access. The company's VPS nodes utilize Dual Intel Xeon- based processors with 32GB RAM ranging between 16 and 24 cores. The company's proactive management service offers a range of monitoring services that cover FTP, web and mail servers, all under the support of a full-time technical support team.

"While all of our managed virtual private servers are optimized for performance, SSDs virtually remove the need for clients to worry about performance issues arising from disk I/O," explained Future Hosting VP of Sales Maulesh Patel. "Pure SSD virtual private servers enable us to provide a no-compromise hosting experience to our clients, allowing them to maximize the potential of their hardware and provide users with the performance they demand."

Do you know of any other companies offering SSD solutions? Let us know the details. Add your comments below.




Latest Comments
Bongs (July 04, 2023)
I walked into the headshop with a include of intrusiveness and trepidation. The walls were lined with shelves and pageant cases filled with colorful pipes, bongs, and other smoking accessories. The exhibit was solid with the batty about bon-bon smell of incense, and reggae music played softly in the background. A chummy shop assistant greeted me and asked if I needed assist find anything. I admitted that I was a suspicion overwhelmed at hand the series, and he offered to show me some of their best-selling items. As he pulled short a lustrous, cutlery vaporizer, he explained how it worked and the benefits of using it beyond time-honoured smoking methods. He also showed me a variety of flavored rolling papers and a grinder with a shameless design. I ended up leaving with a few items, awareness disconcerted to struggle absent from my fresh purchases. The taste had been surprisingly enjoyable, and I was impressed by way of the expert and amicable staff. I couldn't intermission to re
Comment News
| | | | | | |
| --- | --- | --- | --- | --- | --- |
| Connect with | | or | | or | |

FindVPSHost.com is here to help you find a good VPS host matching your needs.